Canada's Gillian 'The Savage' Robertson records dominant win over Brazil's Botelho
Niagara Falls, Ont., native records 6th flyweight victory at UFC Fight Night event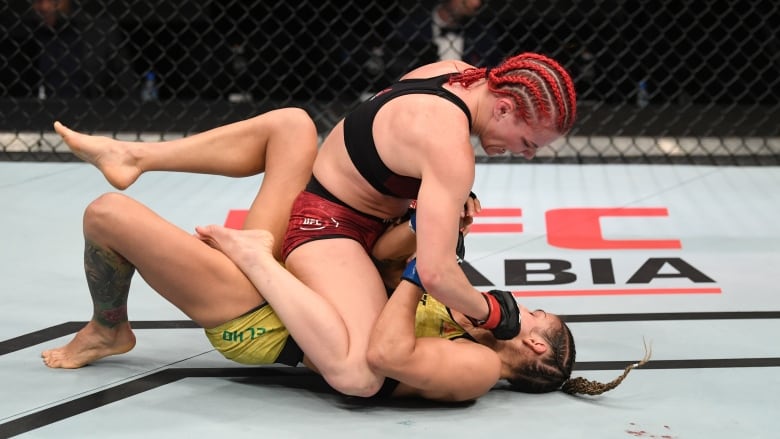 Canadian flyweight Gillian (The Savage) Robertson used her superior grappling skills to dominate Brazil's Poliano Botelho en route to a unanimous decision win Saturday night on a UFC Fight Night card.
Robertson, a native of Niagara Falls, Ont., who fights out of Coconut Creek, Fla., took Botelho down three times, punishing her with 73 ground strikes while spending nine minutes 34 seconds controlling the fight on the ground.
The judges scored it 29-28, 29-27, 29-27 for Robertson (9-4-0).
"The plan was also to finish her, so I'm not happy," said Robertson, who called out No. 13 Antonina (Pantera) Shevchenko after the fight.
Complete control.<br><br>What did you think of <a href="https://twitter.com/savage_ufc?ref_src=twsrc%5Etfw">@Savage_UFC</a>'s performance? <br><br>[ <a href="https://twitter.com/hashtag/InAbuDhabi?src=hash&amp;ref_src=twsrc%5Etfw">#InAbuDhabi</a> | <a href="https://twitter.com/VisitAbuDhabi?ref_src=twsrc%5Etfw">@VisitAbuDhabi</a> ] <a href="https://t.co/D6V1JMFPzz">pic.twitter.com/D6V1JMFPzz</a>

&mdash;@ufc
"I'm trying to get that 100 per cent finish rate and I ruined it tonight so I'm not happy," she added.
Ranked 15th among the UFC's 125-pound contenders, Robertson had finished her opponent in her previous five UFC victories, tying a promotion record. Her sixth flyweight victory is a UFC record.
She already holds the UFC women's record for most submission wins at four. Robertson also boasted the highest control time percentage in UFC flyweight history (65.2 per cent) and ranked second in takedown accuracy (52.4 per cent).
Robertson, who appeared on Season 26 of "The Ultimate Fighter," improved her record to 6-2-0 in the UFC and has now won four of her last five bouts.
She received her black belt in Brazilian jiu-jitsu from coach Din Thomas in her first day out of quarantine at Abu Dhabi.
SAVAGE MODE.<br><br>🇨🇦 <a href="https://twitter.com/savage_ufc?ref_src=twsrc%5Etfw">@Savage_UFC</a> earns her SIXTH win at flyweight.<br><br>[ Tune in on <a href="https://twitter.com/hashtag/ESPNPlus?src=hash&amp;ref_src=twsrc%5Etfw">#ESPNPlus</a> ] <a href="https://t.co/W0h7NPlN5A">pic.twitter.com/W0h7NPlN5A</a>

&mdash;@ufc
Brian (T-City) Ortega, ranked No. 2 among featherweight contenders, faced No. 4 Chan Sung Jung, known as the Korean Zombie, in the main event at the Flash Forum on Yas Island.
It marked Ortega's first fight since a bruising December 2018 loss to then champion Max (Blessed) Holloway at UFC 231 in Toronto. Ortega absorbed 290 significant strikes before the bout was halted by the doctor after four rounds.
Botelho fought off an early Robertson takedown attempt as the fight started. The Brazilian then lashed Robertson with a leg kick and showed good balance in resisting a single-leg takedown attempt.
Robertson finally forced Botelho down to the ground in the final minute, absorbing a knee in the process. The round ended with the Canadian on top.
Botelho landed another kick early in the second round but was taken down trying another after Robertson lost her mouthguard. Robertson moved in to side control and then mount, firing elbow strikes from above as the round ended.
Botelho came out for the final round with bruising under her right eye. Robertson took her down again less than a minute into the round. Regaining mount position, the Canadian fed Botelho a steady diet of elbows while looking for a submission as the fight wound down.
The 25-year-old Robertson was coming off a June third-round submission win over American Cortney (Cast Iron) Casey in Las Vegas.
Botelho (8-3-0) had won three of her four previous UFC outings. At five foot eight, the 31-year-old Brazilian held a three-inch advantage in height and four inches in reach.

Source: cbc.ca
CPL's Forge tallies late to win CONCACAF League game in El Salvador
Anthony Novak's goal leads Hamilton side to win over CD Municipal Limeno
Substitute Anthony Novak's 83rd-minute goal lifted 10-man Forge FC to a 2-1 victory over El Salvador's CD Municipal Limeno in a Scotiabank CONCACAF League preliminary-round game Thursday.
Novak controlled a fine ball from Dominic Samuel that landed just inside the penalty box and hammered a shot past goalkeeper William Torres. The goal came after some a stretch of pressure from the Canadian side with Mo Babouli tormenting Limeno defenders.
Forge lost fullback Johnny Grant in the 64th minute for a second yellow card in a choppy second half that featured a lot of whistles from Honduran referee Selvin Brown.
Forge will stay in Central America, heading directly to Panama for a Nov. 3 round-of-16 date with Tauro FC.
The 22-team CONCACAF League competition is a feeder tournament, sending the winner and next five best-ranked clubs to the 2021 Scotiabank CONCACAF Champions League.
Thursday's game marked the first action for Hamilton's Forge since Sept. 19 when it defeated HFX Wanderers FC in the Island Games final. Municipal Limeno, meanwhile, is two games into its new season and played on the weekend.
The Hamilton side defeated Club Deportivo Municipal Limeño 2-1 in El Salvador on Friday. 1:00
Forge fielded the same starting 11 as in the Canadian Premier League final with the exception of Kadell Thomas coming in for suspended midfielder Kwame Awuah.
Forge had the better start but Limeno, making its CONCACAF League debut, came on as the first half wore on.
Forge's David Choiniere opened the scoring in the 21st minute, the beneficiary of a marvellous Babouli pass. Choiniere's run took him between the centre backs before sliding a left footed shot past an onrushing Torres.
Limeno tied it up in the 38th minute through Kevin Oviedo. The Forge defence converged on Harold Alas high in the penalty box and he laid the ball off to an open Oviedo, whose shot overpowered Triston Henry.
There were danger signs in the 15th minute after a giveaway by Forge defender Daniel Krutzen. But Edwin Sanchez couldn't hit the target, seeming unsure whether to deliver a shot or cross.
Forge FC takes on HFX Wanderers FC in the championship match at The Island Games in Charlottetown, P.E.I. 2:12:44
At the other end, Thomas was a threat down the left flank.
Henry had to play sweeper in the 20th minute to take care of a through ball that split the defender. Limeno caught Forge napping with a quick free kick in the 28th minute, while Henry was organizing his defensive wall, but the shot was wide.
Forge cut open the Limeno defence again the 36th minute but Babouli's shot went wide. Henry made a diving stop in the 42nd minute to deny Sanchez.
Forge came close in the 53rd minute but Krutzen's header off a corner glanced off the crossbar. Henry was called into action at the other end in the 55th, parrying a header off a corner.
Limeno had difficulty taking advantage of the man-advantage and had trouble dealing with Babouli's offensive trickery.
Tournament disrupted by virus
Originally slated to run from July to November, the CONCACAF League was postponed due to the global pandemic. The competition, which kicked off Tuesday, is scheduled to run through Jan. 28.
COVID-19 continues to dog the tournament, however.
Thursday's match between Costa Rica's LD Alajuelense and the Dominican's Cibao FC was postponed pending further testing in the wake of " inconsistencies which raise the possibility that (pre-game) CONCACAF protocols were not followed."
Tuesday's game between Haiti's Arcahaie FC and Belize's Verdes FC was postponed just hours before kickoff after four players and four staff members from Verdes FC tested positive.
There were also positive tests ahead of the preliminary-round match between El Salvador's CD FAS and Nicaragua's Managua FC, but not enough to change Tuesday's kickoff.
Thursday's game was played at an empty Estadio Cuscatlan, the national stadium in the El Salvador capital rather than at Limeno's more modest home stadium in Santa Rosa de Lima, some 170 kilometres away.
Preliminary-round and round-of-16 matches are being played as single-game ties at the highest-ranked club's stadium. All other rounds will be played as home and away ties.
The CPL champions were without defender Klaidi Cela, who tore knee ligaments in the CPL final, and forward Chris Nanco, who suffered a hamstring injury at the Island Games. Nanco could join the team in Panama.
Last year, Forge dispatched Guatemala's Antigua GFC 2-1 on aggregate in the preliminary round before losing 4-2 on aggregate to Honduras' Olimpia in the round of 16.

Source: cbc.ca